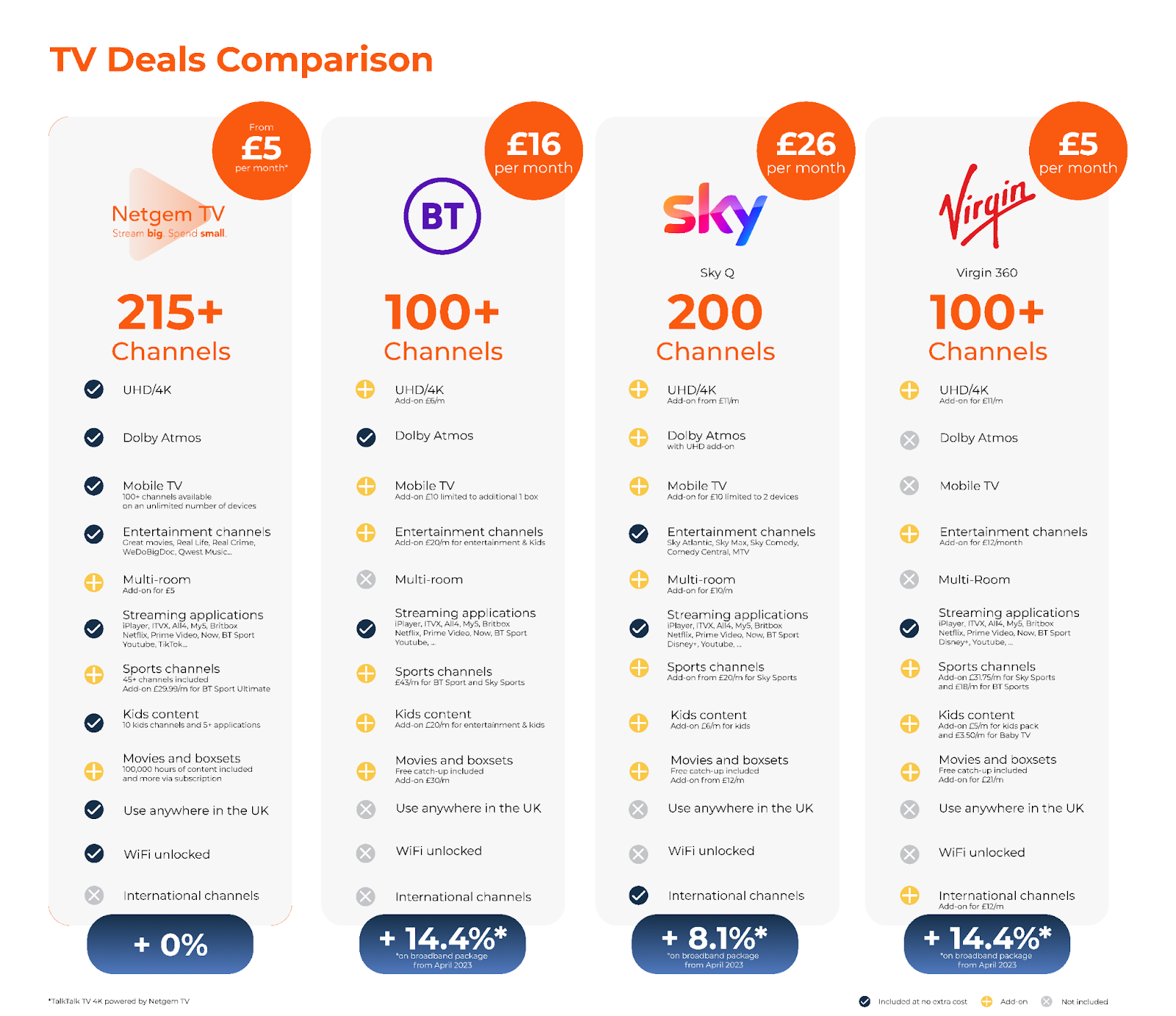 London – March 2023 – While telecom providers are raising their prices, Netgem TV is not only keeping the same low price across its ISP distribution partners, but also delivering more to their customers in terms of inclusive Content.
With up to 17.3% price hikes facing millions of customers of EE, O2, Plusnet, Shell, Sky, Three, Virgin Media and Vodafone, it's time to switch to a TV service that is keeps costs low and continuously adds extra channels, games and TV apps at no extra cost while providing an awarded viewing experience.
With the rising cost of living and mid-contract price hikes by larger telecom providers, customers are now looking for alternatives that won't break the bank. As the number of Broadband switchers is about to rise, Altnets won't want to miss this opportunity . By offering a bundled service that includes a comprehensive TV offering like Netgem's, ISPs can attract and retain customers looking for a more affordable option without sacrificing quality or choice. For Netgem's TV customers including TalkTalk, Community Fibre and 15+ ISPs across the UK it is a no brainer choice. They have long identified this as a great opportunity and have been offering Netgem TV associated with their Broadband plans for as little as £5 a month. In an increasingly competitive market, bundling a TV service like Netgem TV is not only right but necessary for Altnet ISPs who want to remain competitive and continue to grow their customer base.
As Internet providers continue to hike up their prices, Netgem is committed to keeping the same affordable prices in 2023, ensuring that more people can access top-quality entertainment. In fact, the company is also adding more content for the same price, by offering access via TV and now also via the Netgem TV mobile application: a whopping 110 channels for viewers to enjoy on top of Freeview, anywhere in the home or outside the home. Notably, sports enthusiasts can now access seven new channels exclusively dedicated to sports bringing the total number of sports channels to 45+! Viewers can now access live sporting events and leagues from the comfort of their own home, or on the go.
All new channels are easily accessible from the award-winning user-friendly interface, with dedicated sections showcasing all channels previously launched, such as the MLB Channel, The Rugby Network, Unreel, Auto Allstars or Lacrosse TV. Whether they are watching on their TV or mobile, with or without an aerial, Netgem TV brings viewers all the channels they are craving for at no extra cost, available anytime and anywhere.
Netgem TV is dedicated to providing the best entertainment at the right price, and this latest addition to their already impressive lineup is just another example of their commitment to delivering an exceptional viewing experience. The TV service, which is distributed through a network of over 15 ISPs in the UK including TalkTalk, Community Fibre, WightFibre and Brawband now count over 215 live TV channels, including 110 HD channels on top of Freeview, 100,00 hours of content and 30+ games.
Get ahead of the curve and beat the price hikes by adding Netgem TV to your fibre offering – the affordable and unbeatable choice for viewing pleasure!
*https://www.moneysavingexpert.com/news/2023/january/april-broadband-price-hikes/
Sylvain Thevenot, Managing Director at Netgem TV said:"Watching your favourite shows and movies should remain simple and affordable, that's why Netgem TV have made it a priority to offer viewers all the entertainment they can ask for all in one place at an attractive price and we will stick to this promise in 2023!"